Blog Monetisation With Written – Blog Tips
Posted on July 29, 2014
Blog Monetisation is the Holy Grail for most bloggers. You've been scribing posts diligently and creating what you hope is useful content so that you might get some traffic to your site and hopefully find some way of making some moolah. I recently found an interesting way for blog monetisation and, if you have a hefty back catalog of blog posts, this could be something worth looking into.
I recently started using a service from Written.com where they select some blog posts of yours and then put them out to tender as it were for companies who may be interested in licensing your content for a while. From their own site:
"Our business model is simple: we facilitate a marketplace for proven content, allowing bloggers and brands to safely exchange in content licensing, content syndication, and full-page sponsorship agreements. Our goal is simple, to increase the ROI on content."
Thus far one blog post of mine has been selected – my post on "Content Marketing 101 – The Era of the Expert" which you can see linked up in the sidebar in the "big reads" section. Click on it there and you'll see that you're routed to Written.com where the content is now housed. For each blog post that is selected you receive a monthly payment ranging from $20 to $2,000 – not a bad way to start some blog monetisation. I'd love to say I'm getting paid the higher end however it's more towards the lower end of the payment scale (for now).
Blog Monetisation With Written – Blog Tips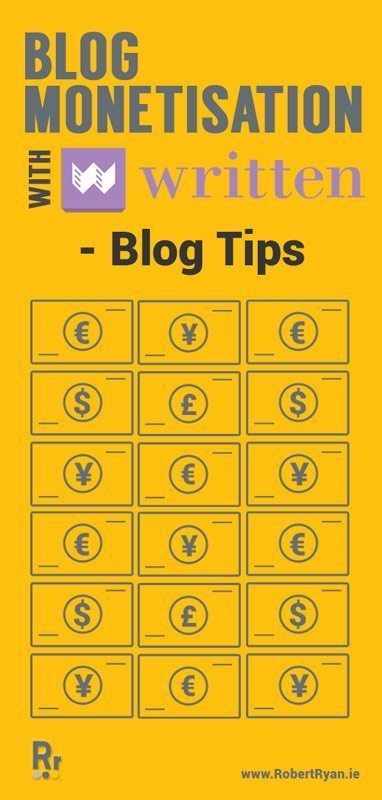 The story of blog monetistion with Written.com doesn't end there though. If you've clicked through to the my post on Written.com you'll see that the links within the post are still pointing to my site and have sent traffic to me. Furthermore, I've received enquiries off the back of the traffic which came from Written.com which is pretty sweet.
The setup for Written.com is painless and straightforward – if you're a blogger you can create an account here: http://written.com/bloggers/ and get the ball rolling. I'd never considered blog monetisation for this blog before as it supports the site and I keep bread on the table by doing WordPress development and social media consulting however I quite like the blog monetisation route offered by Written. On top of that, payment is prompt and as promised – no jiggery pokery, they paid when they said they would which really is great, money into the PayPal account on a monthly basis.
So, my suggestion, if you've a ton of content in the archives that you're happy enough to licence I'd suggest checking out Written, a nice and easy way for some blog monetisation.
---
4 Replies to "Blog Monetisation With Written - Blog Tips"
July 31, 2014 (6:30 am)

Hi Robert,

Way cool site. I've not heard of written, but if you're going to publish solid, helpful content, and people are willing to pay for it, to distribute it through their site, why not receive a nice little – or big – check at the end of the month?

There are so many ways to monetize your blog. The more I meet authority bloggers like yourself the more I learn from them.

Definitely visiting Written right now.

Tweeting this through Triberr.

Thanks Robert!

Ryan

July 31, 2014 (7:57 pm)

Hey Ryan, cheers for reading and I agree – no harm in licensing content now and again, nice way to monetise the blog..Let me know how you get on with Written and all the best, Rob..

JH

August 12, 2014 (4:17 pm)

What plugin did you use for your Sign Up pop-up that occurs when a person first visits your website?

August 15, 2014 (5:36 pm)

Hey JH, thanks for reading.. The plugin is called OptinMonster – hope that helps :)
---